#trianglevienna is a merger of several friendly stores from the 7th district, which form a geographical triangle. This is on the one hand the Siebensterngasse 52 with the two stores ARNOLDs and the PAAR Sneakerboutique then the Stil-Laden in the Lindengasse 51 as well as the Red Wing Shoe Store Vienna on the Lerchenfelder Straße 65. In each of these stores you can find sensitively selected products and brands, depending on your own interest, from the categories Skate - Sneakers - Boots - Mens Fashion.
ARNOLD´s Vienna was opened in 2010 and since then has been offering modern classics and a special service to our customers. Our brand portfolio currently includes a balanced mix of brands with a decades-old tradition, as well as young, modern labels that have the stuff of a real classic. Our team is always striving to offer the right piece to our customers. We are also looking forward to a short visit to the seminar, to linger and to enjoy an espresso with us. Our service includes shorting trousers, special customer orders and re-soling of goodyear-welted shoes, not just from Red Wing Shoes ...
it´s located in a 5 min walking distance from the Red Wing store at: Josefstädter Straße 52, 1080 Vienna
PAAR Sneakerboutique was founded in August 2010 and was the result of the increasing demand on limited sneakers and the growing sneakersecene in Vienna. PAAR stocks series of exclusive models like Asics, New Balance, Nike, Onitsuka Tiger, Karhu, Puma, Saucony, Pro Keds. Last but not least you will find the Jason Markk Premium Shoe Cleaner to keep your kicks fresh and clean. PAAR Sneakerboutique did close their doors in 2018. r.i.p.
Stil-Laden is carring exclusive products from Nike SB, adidas Skateboarding, HUF, Vans, The Quiet Life, ONLY NY, Raised by Wolves, Post Details, Polar Skate Co., Magenta, Palace, Incase, ...
Red Wing Shoe Store Vienna - The Red Wing Heritage Collection, including the newly launched Women's Collection, is presented in a 100 m2 space, making it the largest Red Wing Shoe Store in Europe to this date. The store offers its guests the complete Red Wing experience, which includes advice on proper fit and boot care, knowledge of leather and construction, and the possibility for repair and resoling with original parts. In addition to the boots, the store also offer selected products of the high-quality brands Filson and Stetson.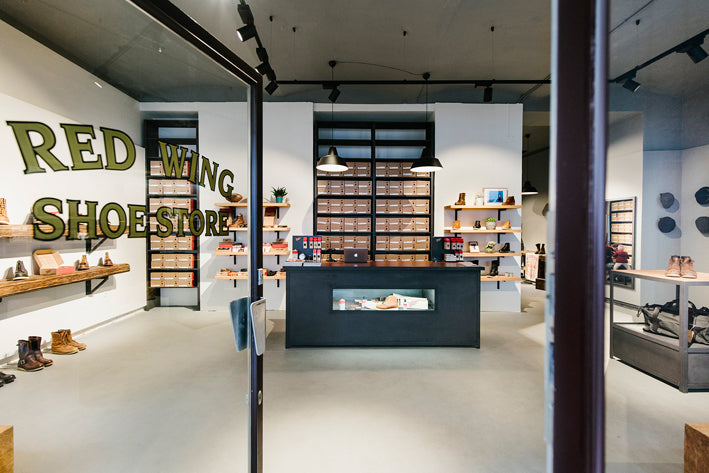 Explore our Moc Toes
Rough, rugged, and still a style icon, some moc toes are already classics from Red Wing. For example the 875 Moc Toe or the 1907 in Copper Rough & Tough leather
Button label